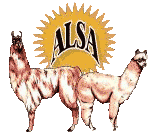 JORDAN FISCHER MEMORIAL SCHOLARSHIP
The Jordan Fischer Memorial Scholarship is now accepting applications until June 30, 2009.

A $500.00 scholarship is available to a llama youth who is currently a high school senior, or enrolled in a not-for-profit university or college. To obtain an application, please call or write to:

Diane Higginbothem
Columbus Foundation
1234 East Broad Street
Columbus, Ohio 43205-1453
Phone: 614-251-4000

The winner of the Jordan Fischer Memorial Scholarship will be announced by August 31, 2009.
Good Luck!