President's Award Winners
The President's Award is given to members who have demonstrated continuous support for ALSA's mission and the llama/alpaca community as a whole. Awardees are determined by the ALSA president and receive a lifetime membership to ALSA.
2019 - Tom & Doris Schlemmer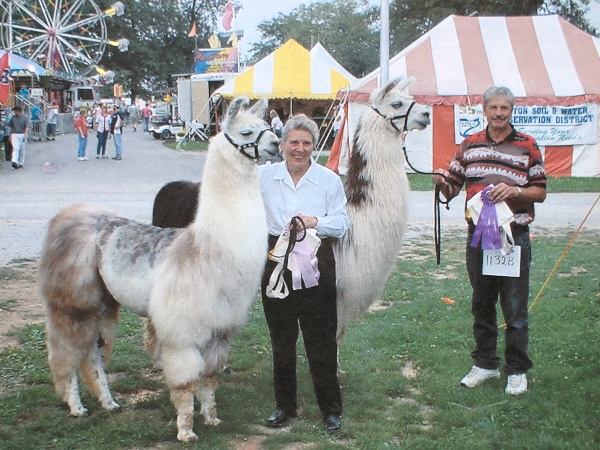 Tom and Doris Schlemmer can easily be called icons of the llama world. Schlemmer's Critter Haven Farm, in Huntertown, Indiana is a 95 acre farm that is home to not only llamas, but also horses, emu, sheep, peafowl, waterfowl, chickens, dogs, and cats.
The Schlemmer's first experience with llamas was over 55 years ago while vacationing in Florida. They knew instantly that llamas were perfect for them. It was nearly 25 years later that llamas began to appear in Indiana. Tom and Doris purchased their first pair in the summer of 1986. Since that time, their love for llamas expanded, as well as their herd size. At one time the farm was home to up to 89 llamas.
Tom and Doris have had a tremendous impact on their community while also sharing the joy of llamas with others. Doris was a 4H leader for the Allen County Llama Lovers for 26 years. They enjoyed hauling their llamas and 4H kids to local parades and nursing home visits. Throughout the years, the Schlemmer's have traveled the country attending llama shows. They have always had a team of 4H kids and their families following along. Tom and Doris have certainly been responsible for helping to create the future of the llama world by sharing their llamas with so many youth over the years.
Schlemmer's Critter Haven Farm has numerous achievements in the show ring. In their years of showing, they have accumulated 13 ALSA Champions. They also have had 4 ALSA National Champion llamas, including the first ever Advanced Performance Champion (first show held in 1998) and first ever Master Performance Champion (show held in 2009). Many of these llamas have gone on to achieve multiple national titles to their name. A legacy to the performance ring is SCHF Fancy Doublestar, who has 31 Advanced performance grand champions, 13 reserves, and has earned 988 ALSA performance points in her lifetime.
For so many years, Tom and Doris could be seen at each and every ALSA Nationals show. They took charge of the awards operation for 13 years. Doris made sure that all awards were organized. She even took the time to gently iron every ribbon, making sure the award looked perfect for the handler and llama who worked so hard to earn it. Their donated time, persistent generosity, and dependability was inimitable.